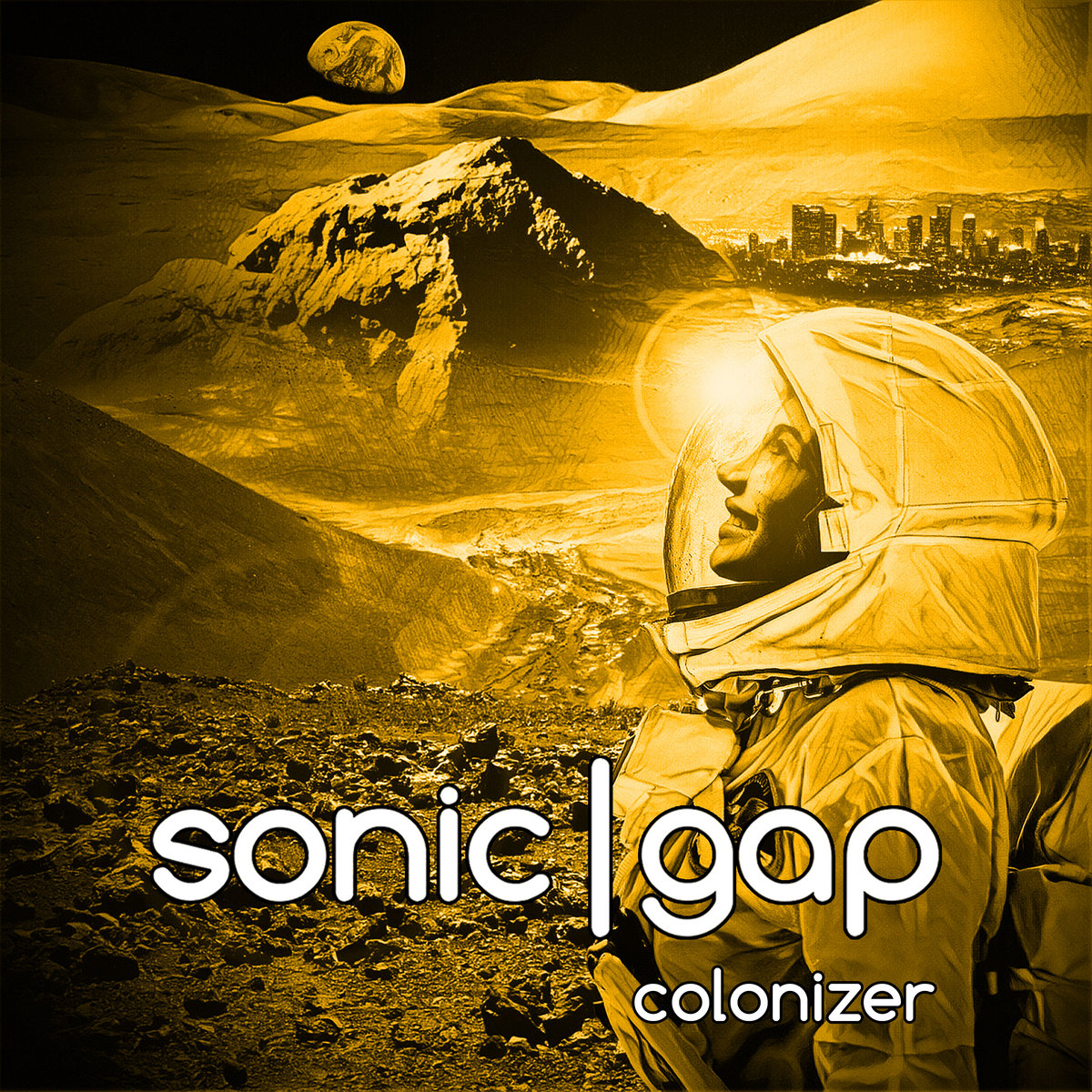 A recap of the Gap:‌
‌
Hailing from Sweden, Sonic Gap infuses his music with a variety of sounds, which sometimes include ambient, rock, vocal, and retro synth.  His last album "Cosmos" was released in August of 2020.  A veteran of music, he's been at it since the '90s, and he consistently puts out great albums that generally are space themed. This latest one is no different.
‌
A look at Sonic Gap's recent release "Colonizer":‌
‌
"Colonizer" dropped on September 3rd, 2021 AP (After Pandemic). It's a concept album about a girl named Selene (an AI Specialist) who moves to the Moon in 2121 in order to become a colonizer. Several of the songs were released ahead of time as singles, and now the whole story is laid out before us.
Let's check out the album:
"Colonizer" - Arps and cool deep synths (think Total Recall) kick off the album on the titular track, with the lovely narration of Nightride FM's own Kaarin Zoe Lee laying out the story. The song then starts to pick up, evoking a sense of adventure and hope that hint at something darker. At around 2:20, we are treated to some future funk sounds to wrap up this "naïve and innocent" vibe.  
"Machine Learning" - Here we have some cool beats and rhythm as the pace picks up, then just after a minute in, some lovely synth pads join the mélange of arp'd and warped beats.  There are punchy effects throughout the song.
"Weightless" - The third track on the album is one of my favourites. Arpeggiated notes take you on a trip over gliding background synths and slight key changes. The hook in this one is great. You'll be humming it for days.
"Coming Home" - There's some incredible early '80s adult contemporary vibes coming out of this song. If you are a fan of Droid Bishop, you'll thoroughly enjoy Coming Home. I can't decide whether I'm watching reruns of "Welcome Back, Kotter" or listening to Steely Dan. Either way, I'm here for it and the smooth almost jazzy sounds just make everything alright.
"Moonbase Treadmill" - Sonic Gap doesn't usually do heavy montage music or workout music, but this track comes close. It's driving beat, the female voice counting "1,2,3,4" in English and French, the elevated tones, and the breaks/drops all pack some energy while at the same time still feeling "spacey".‌‌
"Late Night In Space" - Let's slow things way down baby. Picture yourself in your cabin on a space station, rotating for the gravity, looking out the window staring at the stars and moon as they whiz past.
‌"Artemis" - Released earlier as a single, Artemis has some very cool effects applied to the synths and basslines. It's got key changes that keep taking this song places.
‌"Rocket" - I love when artists have fun with arpeggiated notes. This tune is so happy and bouncy. The lead melody and it's underlying pads remind me of old French pop tracks from the 80s or 90s.  
"Amazing" - Things get a bit more intense in this song. Something is happening, with our pulse racing, beats and notes flying past us. There are some vocoded "You are amazing" vocals injected into the chorus, reminiscent of Daft Punk.
"Lunar Cruise" - Now we are slowing down again for some 70s/80s yacht rack/jazz fusion. Smooth plucky synths and a slight disco vibe permeate this track.
"Shackleton Crater" - Another slow burn, this features a chill ambient vibe with some neat little vocoded effects used as an instrument. Listen to this with your eyes closed and feel your pulse settle.
‌"Explorer 2121" - The final track feels like the end credits to a space opera, as it should. It calls back to some of the songs earlier in the album using similar melodies and blending a bit of everything. The pace in this is triumphant, poignant, and it just feels like you are leaving your world behind and gliding off into the unknown.
In conclusion,
Sonic Gap's latest release is something you can put on, sit back, close your eyes, and just imagine a story unfolding in space. "Colonizer" hits all the right notes to evoke feelings of adventure, reflection, happiness, and foreboding. This is something the Gap is very good at, and he shows no hint of slowing down or changing something that doesn't need changing.
Follow and support Sonic Gap at the links below:
‌‌Bandcamp‌‌
‌‌Twitter‌‌
‌‌Facebook‌‌